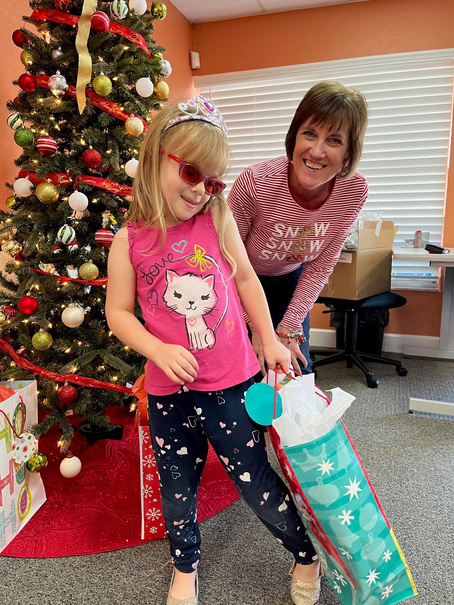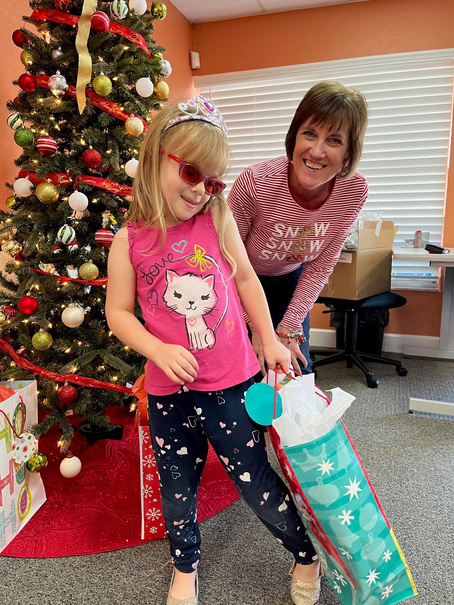 Program Spotlight
LOW VISION SERVICES Our caring Certified Low Vision Therapist (CLVT) will assist you and your loved one to find solutions for the everyday challenges that can accompany vision loss. Clients receive hands on experiences and opportunities to determine how adaptive magnification aids and devices can assist with activities such as reading and writing, and other tasks associated with daily living. Lighthouse of Southwest Florida offers comprehensive evaluation and training for our clients in: *Optical aids such as glare filters, page overlays and lighting solutions *Illuminated hand-held and stand magnifiers *Distance viewing telescopes and telescopic lenses *Electronic magnification and optical character reading technology
---
Lighthouse Kids Holiday Part
Thank you to United Way, Lighthouse of SWFL Board President Jill Turner and the Continental Women's Club for donating the gifts given to our kids!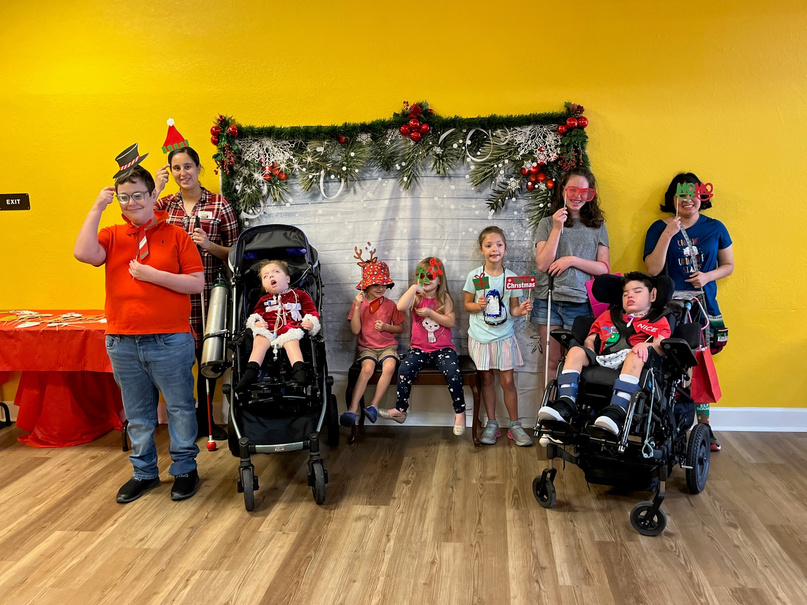 ---
Thank You To Our Supporters!
Thank you to the Rotary Club of Downtown Fort Myers for awarding Lighthouse of Southwest Florida a $3,000.00 grant to upgrade our technology and laptop computers!
Thank you to the Rotary Club of Ft. Myers South for the $1,825.00 grant to purchase conference speaker phones that will allow our clients to more easily hear and interact during support groups and educational "Lunch and Learn" presentations.
Thank you to the Lee County Bar Association Foundation for awarding Lighthouse of SWFL a $500.00 grant to support our Blind Babies & Children's Programming!
Thanks to a generous grant from Lee County and United Way, we are excited to unveil our new advertising on two LeeTran Paratransit buses transporting passengers throughout Lee County!
We owe a huge THANK YOU to the Fort Myers Office of Spherion for not only their volunteerism (they steam cleaned all of the carpets in our building in mid-December), but for their financial support with a check for $1,000.00 through their Community Giveback Program! On behalf of those we serve, we truly appreciate Spherion's commitment to our community and the support you've given to Lighthouse of Southwest Florida!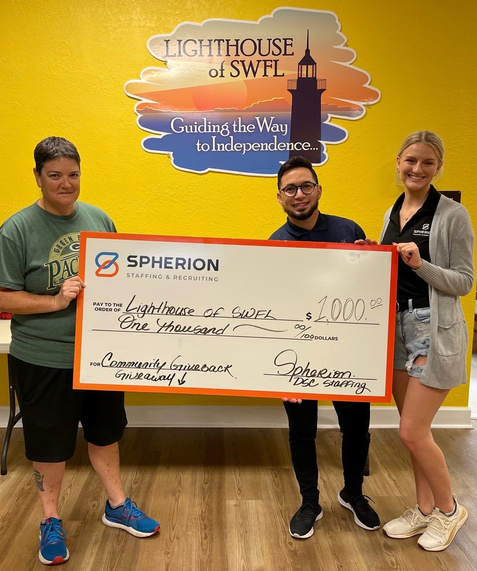 ---
United Way Campaign Kick-Off Breakfast
Several Lighthouse of SWFL staff attended the annual United Way Campaign Kick-Off Breakfast on December 14th at Barbara B. Mann Performing Arts Hall on the campus of FSW. We were honored to be part of an amazing group of generous local companies that raise funds from their employees to support the nearly 90 human service agencies in our area.
As a partner agency, we are proud that our employees donated more than $6,000.00 toward this year's campaign, with two Keel Club members!
Sewing Is Easier Than It Seams!
Lighthouse of SWFL adult clients recently learned how to thread a needle and sew in an activities of daily living class! They cut, sewed and stuffed their own amazing holiday-themed pillows….and had a great time doing it, too! All Lighthouse of Southwest Florida adult programming is designed to improve the lives of our clients and to assist them in gaining and/or maintaining their independence.