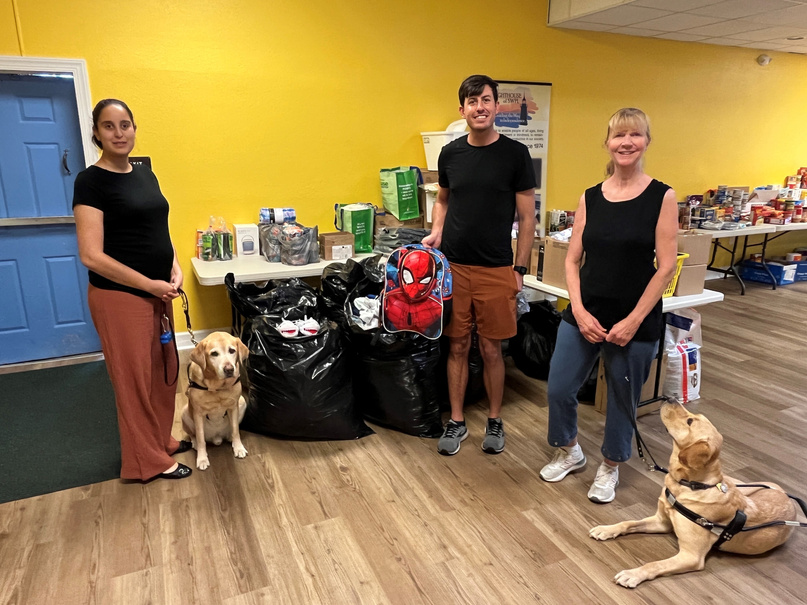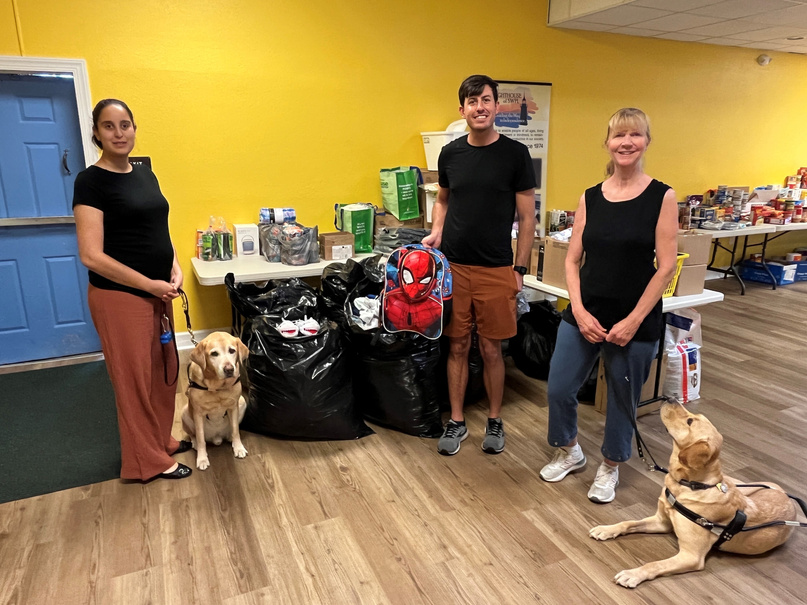 Program Spotlight
Orientation & Mobility (O & M) Orientation is the ability to understand the individual's body position and location relative to other points in the environment: Where am I and which way am I facing? Where is the hallway and how does it relate to my destination? Where are other people and potential obstacles?
Mobility is the safe and effective movement of the body through the environment: Now that I know where I am, how do I get to where I want to go without tripping over things, running into objects or others, and potentially hurting myself in the process?
Our O & M specialist teaches individuals who are blind or who have low vision to navigate their home, school and work environments, walk on sidewalks, cross streets, take public transportation, shop and so much more. When individuals successfully complete O&M training they are confident in using their white cane and in their ability to maintain their independence!
SWFL Recovers From Hurricane Ian
Hurricane Ian officially made landfall near the island of Cayo Costa the afternoon of Wednesday, September 28th as a powerful Category 4 storm with sustained winds near 150 mph. By that evening, the devastation left in Ian's wake was obvious with more than two million households in Florida without power, and some communities along Florida's west coast in tattered ruins from wind and life-threatening storm surge.
On Thursday the 29th, search and recovery efforts began in earnest throughout our area, with the hardest hit areas of Fort Myers Beach, Pine Island, Matlacha and Sanibel receiving the most attention.
By Friday the 30th, our community was already taking significant steps toward recovery and healing.
Lighthouse of SWFL staff and board were all found to be safe, though some had significant damage to their homes. Program staff called and texted clients to inquire about their well-being and to find out what they needed during this time. Lighthouse of SWFL's focus after the storm was crisis intervention and assisting our clients to resolve immediate basic needs.
The Leadership Team assessed damage at the office in N. Ft. Myers and took immediate measures to mitigate further damage. The interior had no damage with only minor water spots on ceiling tiles where wind blew rain in through a vent. Outside, the aluminum overhang covering the southwest corner of the building crumpled and collapsed. Staff worked together to remove it, placed a tarp on the side of the building and cleaned debris from the grounds.
Thank You To Our Supporters!
Thank you to Lee Guardianship Services for the recent unrestricted donation of $20,000 to Lighthouse of SWFL! We appreciate your generous support of our mission to enable people of all ages living with a visual impairment or blindness to remain independent, active and productive in our society.
Thank you to The Community Foundation for the $5,000 grant to support the health and well-being of older blind individuals. Lighthouse of SWFL truly appreciates your continued support of our vision rehabilitation and support services for our older adult clients. For more information on The Community Foundation, check out their amazing work on their website here.
More Hurricane Ian Relief Supplies & Volunteers
Thank you to EVERYONE who pitched in, picked up, cleaned up and donated money, gift cards and much-needed supplies to support Lighthouse of SWFL clients and our entire community!
Rewarding Careers at Lighthouse of SWFL
Since our founding in 1974, our mission to enable people of all ages living with a visual impairment or blindness to remain independent, active and productive in our society has been our core tenet.
Lighthouse of Southwest Florida is proud to be an equal opportunity employer that celebrates diversity and inclusivity.
Join our talented team of professionals that provides a variety of vision rehabilitation and support services to children and adults in Lee, Hendry and Glades counties experiencing low vision and blindness. In addition to a competitive wage, we offer a four-day work week and generous paid time off. We also offer an array of benefits such as 100% employer-paid health insurance for eligible employees and a 401(k) retirement savings plan.
Head to Indeed and search for Lighthouse of SWFL to view our current open positions and apply!
Thank you SWFOA
A huge thank you to the Southwest Florida Optometric Association for sponsoring our upcoming billboard! We appreciate your continued support of Lighthouse of SWFL and our mission to enable people of all ages living with a visual impairment or blindness to remain independent, active and productive in our society.