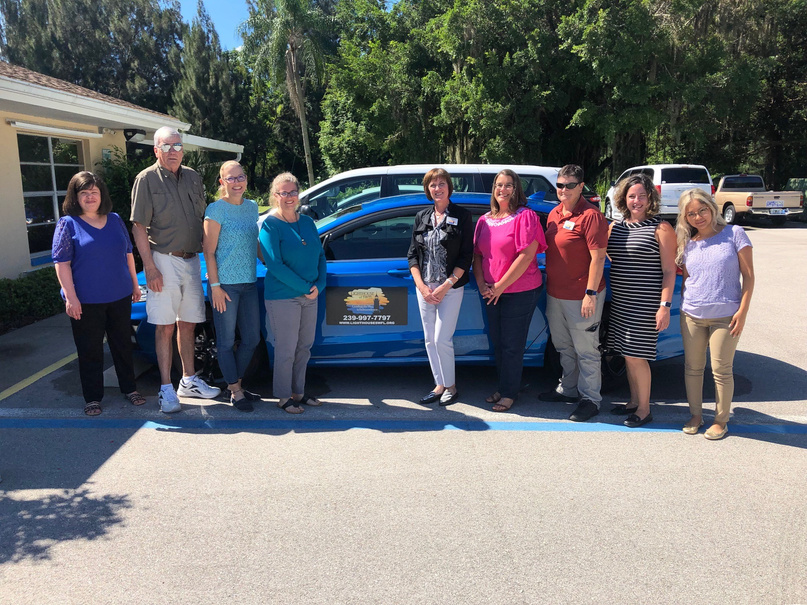 Enlightened: Summer 2022 Issue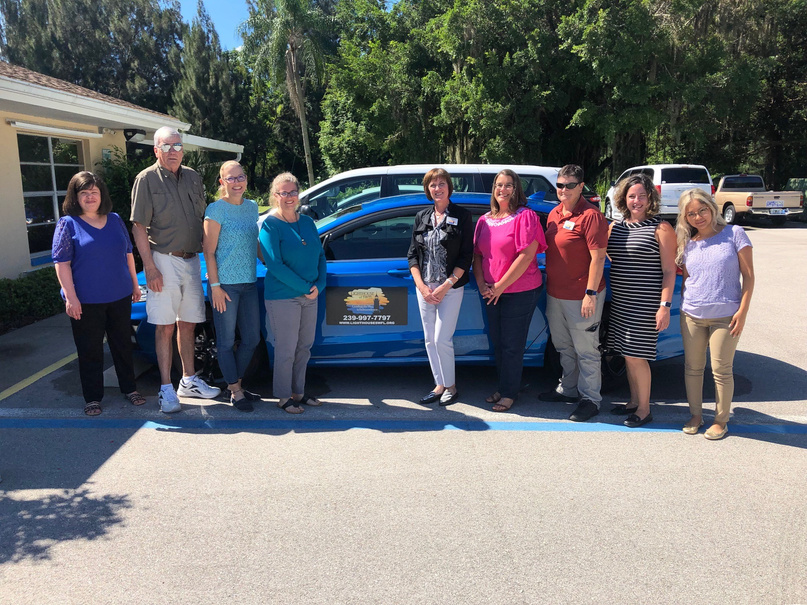 Program Spotlight
Independent Living Skills (IL skills) training allows individuals to improve their ability to live independently, utilizing adaptive devices designed for visual loss. IL skills training applies to the home environment as clients learn how to safely prepare meals, utilize appliances and other skills necessary to care for themselves and their families. IL skills training applies to the work environment, too, with clients learning to successfully balance employment with home life. This training is enhanced by the client's involvement in our Assistive Technology (AT) training with instructional sessions arranged in conjunction with one another. More detailed information on our adult programming can be found inside this newsletter!
Lighthouse of Southwest Florida takes an individualized, client-driven approach with the client's wishes and goals driving the services offered. We understand people have different learning styles and learn at varying paces. Lighthouse of Southwest Florida offers individualized and group instruction while making every effort to accommodate scheduling needs.
---
Art Abounds at Lighthouse of SWFL
We have artists! Boy, do we have artists!! Word spread about the awesome work being created in our art studio and, the next thing we knew, United Way of Lee, Hendry and Glades Counties is asking to use our clients' amazing paintings to adorn United Way's thank you cards for donors and others who made significant commitments to the annual fundraising campaign. The three amazing paintings above by Lighthouse of Southwest Florida clients and artists Carole Sue Henry, Carol S. Murphy and Letty de Guzman were chosen. We are so proud of these three talented artists (as well as all of our client artists) and excited to support United Way and their efforts!
---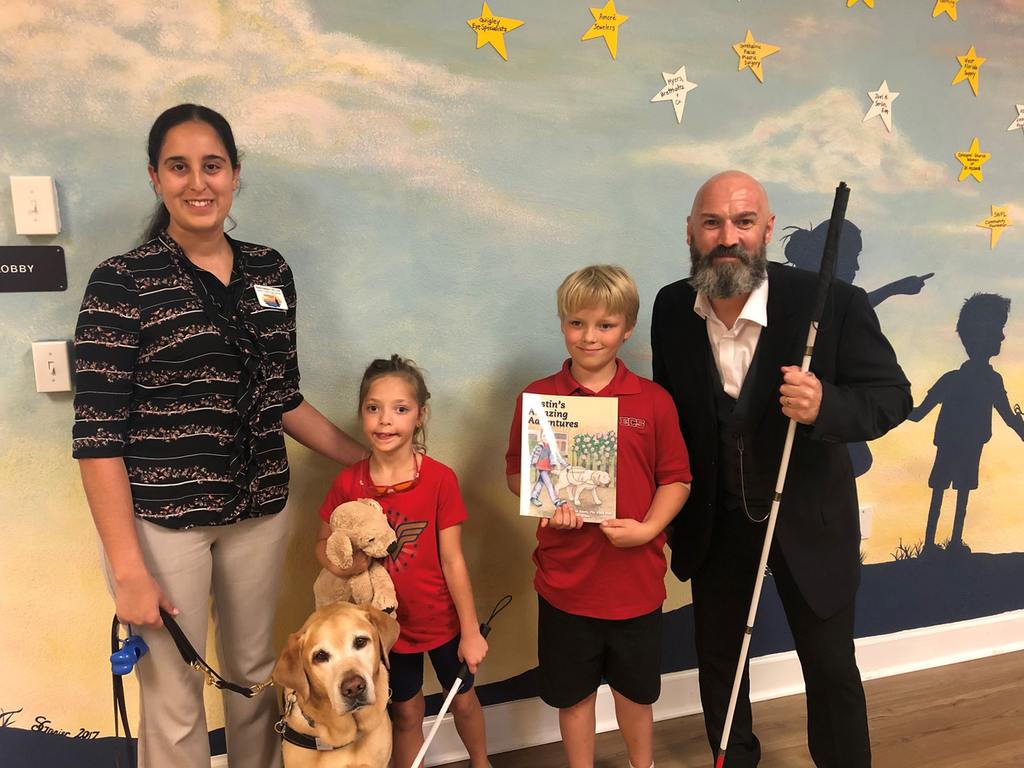 Award-Winning author Visits Lighthouse of SWFL
Dave Steele, an award-winning and inspirational author of more than 750 poems and songs about his journey with vision loss, visited Lighthouse of SWFL during his road trip across Florida with Florida Agencies Serving the Blind. Steele, who is from Manchester, United Kingdom, read his new children's book "Austin's Amazing Adventures" in which a young boy facing slow progression of sight loss navigates school and day-to-day life with his best friend and guide dog Joe, to Lighthouse of SWFL staff and clients.
---
We Have the Greatest Supporters!
Cameo Grant
Lighthouse of SWFL thanks CAMEO (Cooperative Associates Marketing Elderly Options) for a grant of $3,000 to purchase equipment, supplies and instructional materials to provide client/family and community education on the impact of diabetes and health conditions that contribute to vision loss and blindness in older adults.
Pine Lakes Women's Club
Thank you to the Pine Lakes Women's Club in North Fort Myers for the $750 donation to support our vision rehabilitation services. All funds raised by this social and charitable club from their events are donated to local charities, and we are grateful to be a recipient!
Guiding Light Community Church
Thank you to Rev. Benny E. Anthony and Guiding Light Community Church for two donations totaling $300 to support our services.
Metro-McGregor Kiwanis
Thank you to the Metro-McGregor Kiwanis for the $500 donation toward summer camp supplies!
WAWA
Thank you for donating bottles of water for our summer campers!
---
Lighthouse of SWFL Earns Gold Seal
Lighthouse of Southwest Florida is proud to have earned the Gold Transparency Seal for 2022 from Candid (formerly Guidestar and Foundation Center). For current and potential donors, this means Lighthouse of SWFL is providing accurate and in-depth information about the many ways we are responsibly advancing our mission with donations we solicit and receive. For years, donors have been assured that Candid's data tools on nonprofits, foundations, and grants are the most comprehensive in the world, and Lighthouse of SWFL is pleased to have earned their Gold Seal!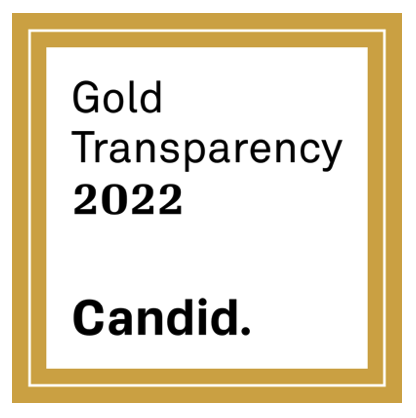 FGCU Students Immersed in Hands-On Learning
More than 30 Florida Gulf Coast University Occupational Therapy (OT) students joined us in July to learn about the vision rehabilitation services provided for babies, children, teens and adults while receiving hands-on instruction on properly using a white cane to navigate their environment, and how adaptive technology and low vision devices can be beneficial to those we serve. Students walked next door to Smoke'n Pit BBQ for "lunch in the dark" where they learned from Lighthouse of SWFL staff how to utilize the face of a clock to describe the location of foods, such as meat at 7 o'clock, potatoes at 3 o'clock and vegetables at 9 o'clock.
---
Expanding Knowledge With Lighthouse of SWFL Technology
Code Quest is being played by this student on a children's program iPad. The game helps with memory and sequencing, two of the basic skills needed in computer coding.
By utilizing one of our children's program iPads and a Bluetooth keyboard to play a braille typing game, this Lighthouse of SWFL student is increasing his braille typing speed and letter recognition. The keys F, D and S represent the braille dots 1,2 and 3 and the keys J, K and L represent the dots 4, 5 and 6.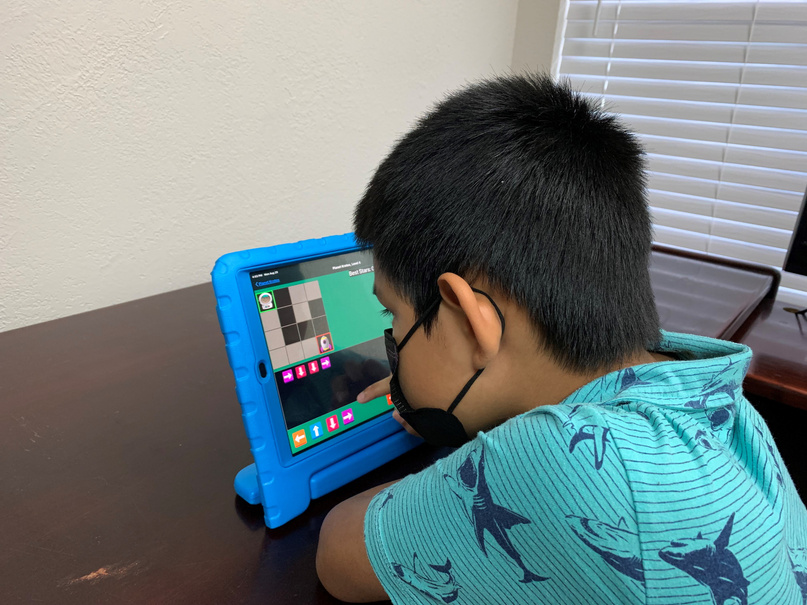 ---
Assistive Technology Grant
Lighthouse of SWFL is pleased to announce a 2022 grant award of $15,000 from the Richard M. Schulze Family Foundation to be used for Assistive Technology Accessibility for children and adults!
Transition Students Visit & Learn at Edison's Lab Restaurant
Thank you to the Edison's Lab Restaurant in Fort Myers for hosting four of our Transition students in August. The students asked many great questions of Shay, the restaurant's director of operations, about what it takes to run a successful restaurant, catering company and plan special events. The students also got to make (from scratch) and decorate their own sugar cookies before enjoying a wonderful lunch with Shay (and then eating their freshly-baked cookies). Lighthouse of SWFL extends a special thanks to Edison's Lab Restaurant owner Chris Lackey for his generosity and willingness to host our Transition students!
Thank You FDOT!
Lighthouse of SWFL's Leadership Team was pleased to give a tour of our center to representatives from the Florida Department of Transportation (FDOT) as well as our two new Master of Social Work interns in August.
Often overlooked in the services we provide is Lighthouse of SWFL's transportation program, funded by the Florida Department of Transportation. This is a unique and targeted part of the services provided specifically for blind and low vision clients who cannot drive or have other transportation barriers. Clients seek our vision rehabilitation services to aid in developing coping and independent living skills, thus enabling and empowering them to utilize public transportation and alternative means for mobility as they adapt to living with blindness or low vision.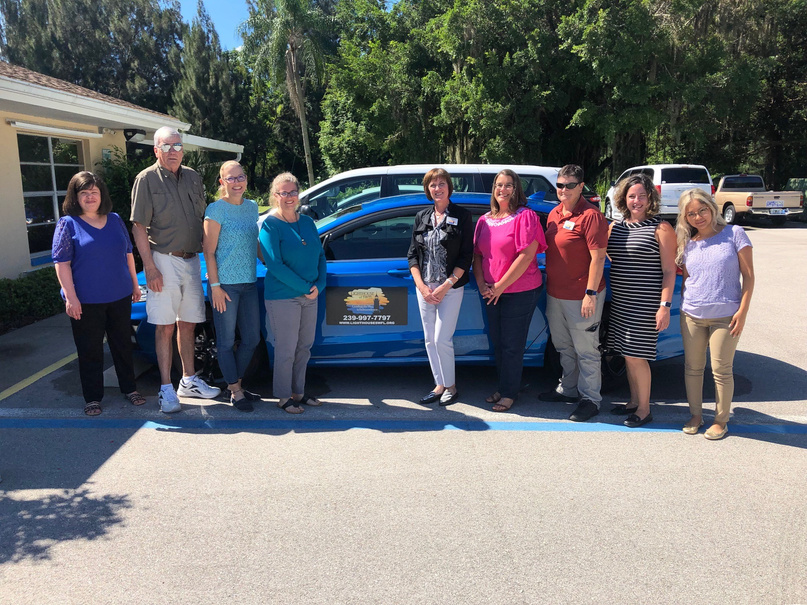 Our transportation program is essential in getting our clients to their initial appointments, as well as classes with our certified instructors who work with the clients to develop their individualized service plans and set goals for independence. In Lee County alone, for calendar year 2021, 278 client trips were made in Lighthouse of SWFL fleet vehicles!
"Having these vehicles available to us as the program staff is an amazing benefit to working here at Lighthouse of SWFL," said Mike Brust a Certified Orientation and Mobility Specialist. "Fleet vehicles give us a safe transportation option to reach our clients out in the community and provide services where they are, or bring them to our offices for services."
---
Meet Lighthouse of SWFL's Newest Four-Legged Team Member
Lighthouse of SWFL Assistive Technology Specialist Anne Hatton recently returned to the office with her new guide dog Angelo. Angelo and Anne spent three weeks working together at Southeastern Guide Dogs in Palmetto, Florida before returning home to Southwest Florida. We are so excited for Anne and her new guide dog Angelo!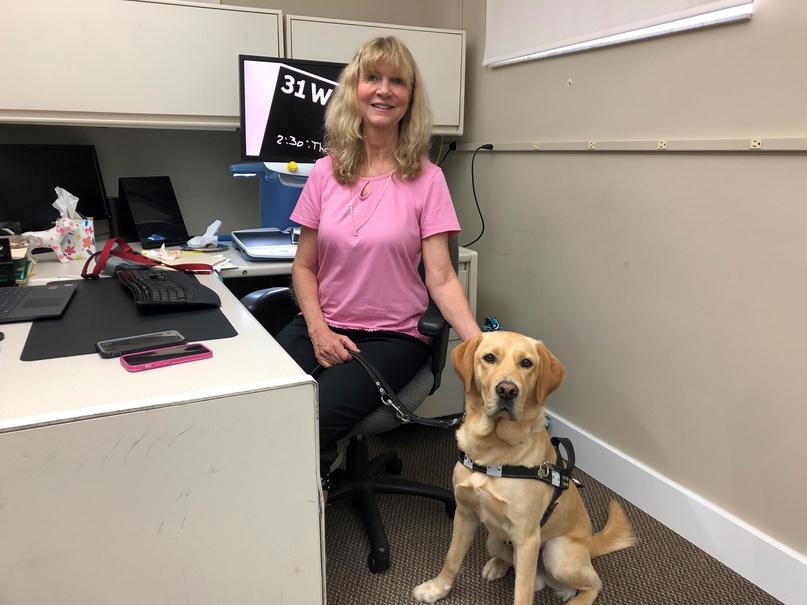 ---
Adult Programming Improves Lives Every Day
Lighthouse of Southwest Florida's programming for adults is designed to improve their lives and assist them in gaining or maintaining independence.
Independent Living (IL) skills training allows individuals to improve their ability to live independently, both at home and in the work environment, by utilizing adaptive devices designed for visual loss. Clients learn how to safely prepare meals, utilize appliances, sew/mend clothing, and balance employment. Couple IL skills training with our Assistive Technology (AT) and our adult clients are able to complete day-to-day tasks such as paying bills, managing accounts, shopping on-line, and communicating with friends and family. Individuals completing AT training can live confidently and independently and have a competitive edge in today's job market.
Another important aspect of our adult programming is orientation and mobility. Orientation is the ability to understand the individual's body position and location relative to other points in the environment, and mobility is the safe and effective movement of the body through the environment. Our Orientation and Mobility (O&M) Specialist teaches individuals who are blind or have low vision how to navigate their home, school, and work environments, walk on sidewalks, cross streets, take public transportation, shop and much more. Communication skills are also important and can improve one's ability to gain and/or maintain independence. Those living with blindness or low vision need to know their rights, the resources available and how to self-advocate. Specialists at Lighthouse of SWFL work with clients to assist in enhancing an individual's confidence and comfort in asking for and utilizing the reasonable accommodations afforded to them. Successful completion of Braille Services (Braille Readiness, Braille Reading and Writing, Braille for Orientation, Braille for Recreation, Braille for Labeling, Uncontracted vs. Contracted Braille) assists clients with maintaining personal and professional independence.
Lighthouse of SWFL also employs social workers who are the first point of contact to enroll adults in our programs. They also facilitate support groups, including the Adjusting to Blindness series for new clients.
---
Meet Our New Social Work Interns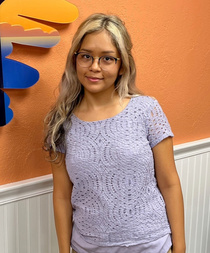 Sara Gallardo is a Master of Social Work student at the University of South Florida. She holds a Bachelor of Social Work degree from Florida Gulf Coast University. Sara is most interested in ultimately working with older adults and helping them age in place. Sara has three dogs (she loves animals!) and travels in her free time.
Jamie Schwartz is a Master of Social Work student at Florida Gulf Coast University and earned her Bachelor of Science degree in Public Health from FGCU. Jamie's ultimate goal is to work with older adults in the medical social work arena. In her free time, she loves to travel the world (she's already been to South America, Europe and Asia!) Jamie also loves to spend time in nature and enjoys art.