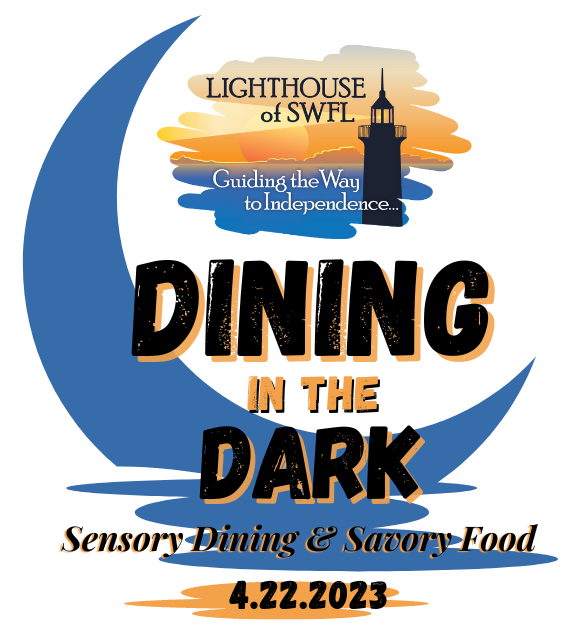 April 22, 2023 – Lighthouse of SWFL's unique sensory awareness fundraising event, Dining in the Dark, raised $24,000 to help continue its mission of providing vision rehabilitation and support services for children and adults in Lee, Hendry and Glades Counties.
The event, held at Heritage Palms Golf and Country Club in Ft. Myers, provided guests with a first-hand glimpse into the challenges of living with blindness or low vision. This year's theme, Hollywood Glamour, included a dinner menu inspired by the world-famous Hollywood Brown Derby restaurant. In addition to dinner under blindfold, guests heard from several clients about the positive impacts Lighthouse of SWFL services have had on their lives. Attendees also perused the silent auction tables and bid on live auction items.
Emceeing Dining in the Dark 2023 was Eric Raddatz, one of the most renowned faces in the Southwest Florida arts and news community. The live auction was hosted by local personality and golf aficionado Jay Severson.
Lighthouse of SWFL thanks our Dining in the Dark event sponsors: Gorovoy M.D. Eye Specialists, Southwest Florida Optometric Association (SWFOA), Robert Schlager & Independent Investment Advisors, O'Donnell Landscapes, Inc., The Lee County Sheriff's Office, CRS Technology Consultants, Golisano Children's Hospital, Wawa Foundation, Palm Printing and Florida Weekly.